Once per turn, while you have no cards in your hand, you can draw 1 card and reveal it. For a Monster Card drawn with this effect, inflict damage to your opponent equal to the Level of that monster × 200. For a Spell or Trap Card, you take 500 damage.
Spoiler:
Good ol' Randy, possibly the worst and most underrated Infernity card, and with good reasons too. Isn't the point of Infernities to get rid of your hand? Why would you draw more just to null your own effects? Drawing into Infernity Archfiend with Randomizer just ruins your day because due to Randomizer's burn damage Archfiend will miss the timing effectively killing your best top deck card in your deck.
Surely there must be a way to utilize his amazing effect to draw every turn, but how? Such a large drawback by having to have no hand, and very few decks work well with no hand, seeing as hand advantage is just as important as field control.
If you can't have hand advantage to use his effect and the only deck that works off of no hand advantage is Infernities can't benefit from his effect you would think that there must be no place for this wonderful little man, and with that you would be wrong.
If you can't have control of the hand to use Randy take control to the fields! Seeing as a large portion of field control resides in the usage of trap cards, and that you must set them before you can activate them in return reducing your hand size Randy can take advantage of this and all the support he needs to win.
Possibly the best thing about Infernity Randomizer is the fact that he is oddly a Warrior type. If he was anything but a Warrior this deck may have never actually seen the daylight. Randomizer is able to be searched out via Reinforce Truth and Reinforcement of the Army.
The reason why I am running only eight monsters is because drawing more than one monster in your opening hand sucks quite a bit, it slows the deck down by a turn (Oh my God, not a whole turn! While a turn may not seem like a lot, in the current and previous meta all you needed was a turn to set up to win, and this deck unlike others is quite hampered if it is not able to set up right away)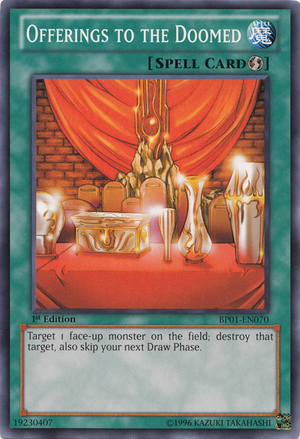 Whoa a free kill on a monst- oh wait you can't draw next turn. Normally, outside of anti-meta (99% of anti-meta doesn't even glance at this card) and a niche pick this card sees absolutely no play at all (Call me a weird duelist, but I may be the only competitive duelist who actually likes this card, but I don't recommend running it unless you are quite confident about your dueling), but due to the ability of this deck to get Randy out quite easily we don't need to draw where we are going.
Out of all of the decks that I have made this one is by far my favourite. It reflects my odd approach to the game, whether that's a good or a bad thing. I apologize for not going more in-depth about the deck I tend to be bad at explaining things, and the more that I type the more and more my sentences tend to get grammatically incorrect and eye-gouging.
All constructive criticism is welcome, and don't feel put down to suggest something regardless of your dorm. I've found that some of the things less experienced duelists suggest can be more effective than what their counterpart has suggested.
Last edited by Acacia on Wed Feb 13, 2013 1:56 pm; edited 1 time in total