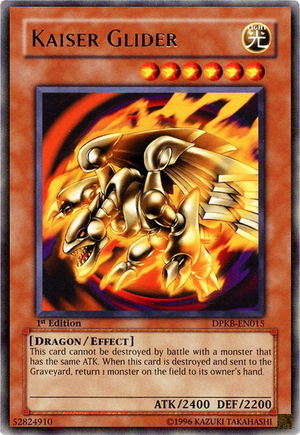 This card cannot be destroyed by battle with a monster that has the same ATK. When this card is destroyed and sent to the Graveyard, return 1 monster on the field to its owner's hand.
I was sorting through some old cards when I came across this bad boy. At first glance you would think "Raiza does this but better", this is true. However Kaiser Glider is a great side deck card in every Monarch deck out there. This card is great for siding against Dino Rabbit decks, just side out your Raiza's and toss this guy in.
What makes him so great as a side deck card against Dino Rabbits is the fact that if you whip him out, they lose their Laggia if they negate his summon or not. If they negate his summon with Laggia, Kaiser just pops Laggia back to the Extra deck and looks cool while doing it, but if they don't negate his summon you can just crash this bad boy into Laggia and come out unscathed.
Thoughts on Kaiser Glider? Any other situation where he would be more useful than Raiza?
EDIT: Also his effect is reusable, if you monster reborn him you can pop another monster again, because Kaiser Glider is cool like that.
Last edited by Acacia on Wed Feb 13, 2013 9:04 am; edited 2 times in total